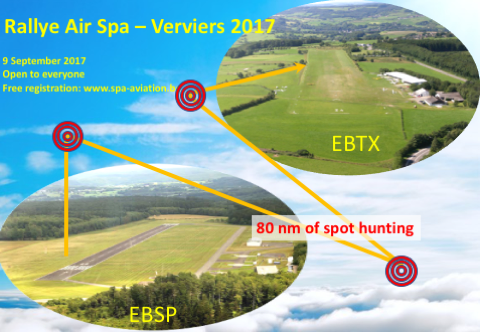 As a pilot, do you want to take part in a friendly challenge by pilots for pilots?
If you share our passion of flying as ground spectator, do you want to see a lot of planes on Saturday 9th of September?
Then, feel free too join us at the Spa (EBSP) and Verviers/Theux (EBTX) airfields for a friendly competition among crews: cross-country flight over specific spots (+/- 1 hour), precision landing & parking, knowledge quizz, ... All of this in a relax atmosphere and in a safe and serious environment.
Around 18:30, there is the result publication, followed by a free drink for the non-pilot and a dinner on the airfield (open to everyone but every participant will have to pay for dinner).
Free but mandatory registration and the landing feeds are waived in Spa and Theux for all participating crews.
To register: email to This email address is being protected from spambots. You need JavaScript enabled to view it. or via an electronic form in French or in Dutch.
French and English will be used on that day.
Night VFR rating training (March 2017)
Program:
ground training in the class
5 hours of flying, including:

at least 3 hours of dual command flying,
at least a 1-hour cross country flight (a dual-command flight of more than 50 km),
5 solo take-offs and 5 solo full-stop landings.
The night VFR rating never expires.
For more information, please contact This email address is being protected from spambots. You need JavaScript enabled to view it.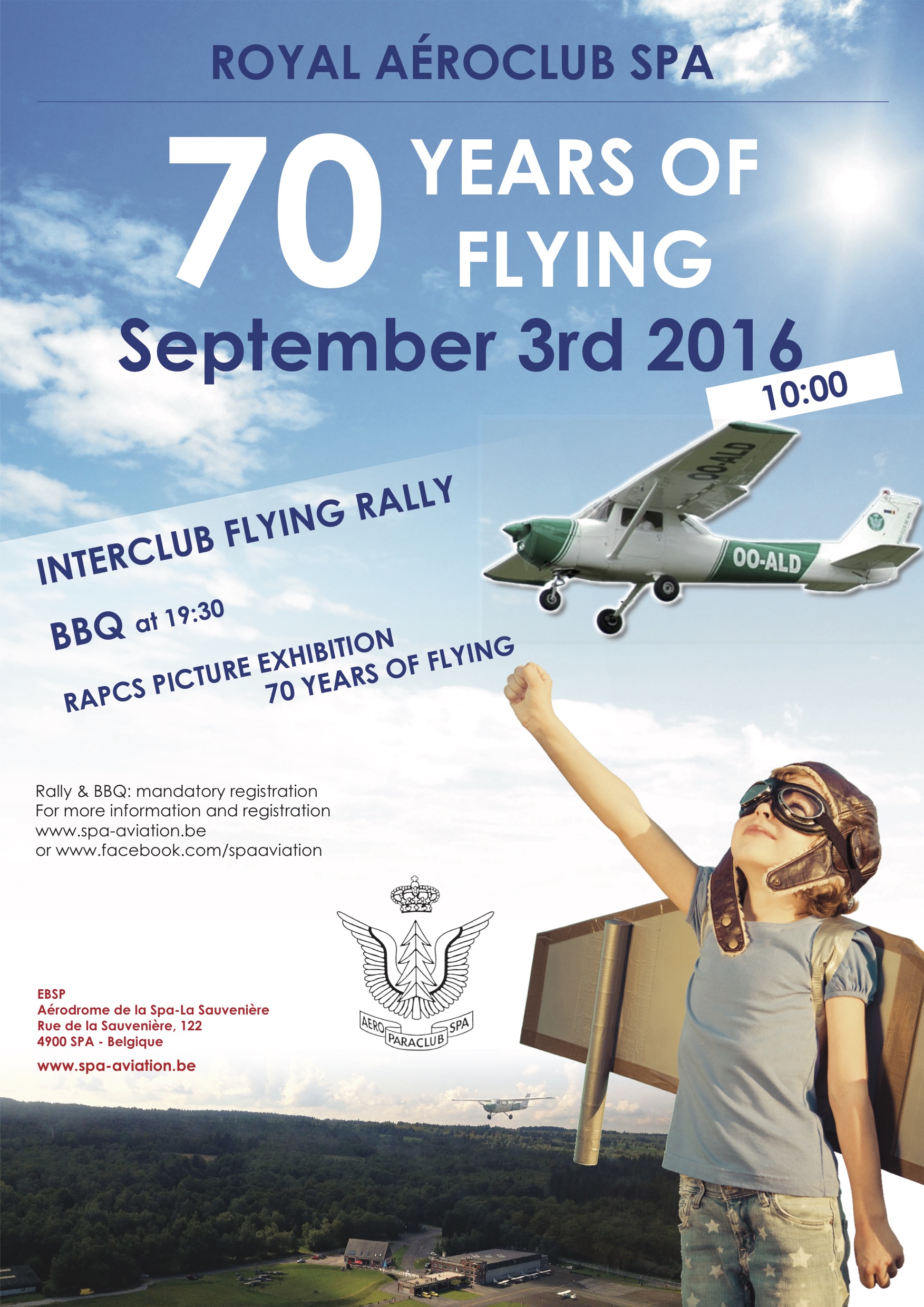 The Flight Club of Spa has 70 years of flying and let's celebrate this with one full day Saturday 3rd of September 2016 at the Spa airfield!
Activities
From 10:00 to 16:30: the Air Spa 2016, a flying rally, a friendly competition among pilots. Non-based planes and teams are welcome of course! The landing fees will be waived. The competition includes cross country navigation, theoritical knowlegde, precision landing/parking, ... Free participation but registration is required (see below).
The Closing Ceremony (and awards!) is at 18:30 followed by a free drink for participating teams, all RAPCS members and their spouses/partners.
Photo exhibition about the airclub/airfield history (free entrance from 9:00 to 20:00),
BBQ at 19:30 until... with skewers, country saucisses, chicken drumstcks, merguez, several salads (carrots, lettuces, tomatoes, pasta, ...) + chocolate mousse (20 € per person, drinks excluded),
There should be a lot of planes taking off and landing, so, a place to be on that Saturday!
Registration
Registration for the rally can be done:
for members of RAPCS: by sending email to

This email address is being protected from spambots. You need JavaScript enabled to view it.

, on the paper form in the club (near the FI office) or by using this link (available to members only)
for other teams: you must fill this PDF form or this Excel sheet and send it back to

This email address is being protected from spambots. You need JavaScript enabled to view it.

.
For the BBQ, send an email to This email address is being protected from spambots. You need JavaScript enabled to view it. (seats limited to 100). Participation is only confirmed after full prepayment (IBAN: BE 14 0000 7816 1283 - BIC: BPOTBEB).